---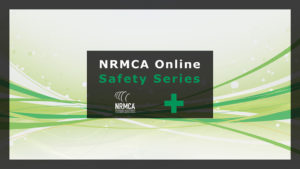 The online Safety and Environmental Series comprise of stand-alone training resources to help ready mixed concrete drivers and operations staff stay safe while complying with regulations on the federal level. The goal of each lesson is to increase awareness while reducing violations and injuries. What's unique about the library is that it is written by ready mixed concrete safety professionals.
---

NRMCA Webinar: The Seven Things You Can Do To Place More Concrete in Buildings
Are you tired of watching wood buildings going up and wondering why they are not concrete? Are you wondering you can change this alarming trend? Come learn about the seven things you can do to help win back share of concrete in buildings from wood and steel. In September 2015, the NRMCA Board of Directors adopted a comprehensive building promotion plan to stem and regain concrete's loss of market share in the low/mid-rise buildings market. There are three main strategies. The key strategy is direct project promotion where NRMCA, members and industry partners work directly with developers to provide technical support and design assistance with the primary objective of converting wood and steel designs to concrete. Two other strategies provide support including communications and advocacy. This webinar will layout the seven basic steps towards gaining back that lost share and increase the amount of concrete placed in buildings.
Contact Lionel Lemay, 847-922-7995.
NRMCA Webinar: Learn How and When to Influence a Design team to Make Concrete the Material of Choice
Are you the person who drives strategic revenue goals and activities to increase the cubic yardage sold in your company? If so, this webinar might support your efforts. Do you know the phases every construction project goes through? And do you know at what phases your input can have the most influence on a buyer's decision on the use of concrete for that project? And, who is the person you can influence the most – the architect, the engineer, the contractor? Why and how? The 60 minute webinar starts with an introduction to the phases every construction project goes through and includes insight about how to use those phases to influence a buyer's decision to select concrete as the material of choice for that project.
Alan Sparkman, who has taught at MTSU's CIM Graduate School of Business, is the Tennessee Concrete Association's executive director, and teaches industry-specific sales courses for NRMCA, shares his expertise.
Contact Eileen Dickson, 703-706-4864.
---
HANLEY WOOD UNIVERSITY
BUILD WITH STRENGTH CLASSES