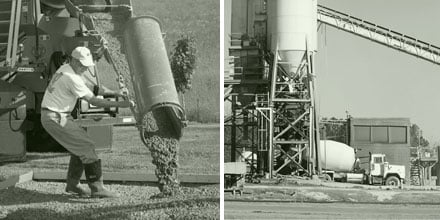 RAISING PROFESSIONALISM IN THE READY MIXED CONCRETE INDUSTRY THROUGH THE CERTIFICATION OF PRODUCTION FACILITIES THAT COMPLY WITH INDUSTRY STANDARDS.
Verification of Plants and Approved Inspectors
General Information
Plant and Truck Certification Documents
The inspection of the production facility should be documented on the Plant Certification Checklist.
The NRMCA Plant Certification Checklist is used solely for the purpose of requesting certification of production facilities through NRMCA. Inspectors must use the NRMCA's Plant Certification Electronic Checklist version 03.20.20 for inspection and for requesting certification of production facilities through NRMCA. This document is provided to inspectors approved to perform inspections for the NRMCA's certification program. If you are an NRMCA approved inspector and need the current copy of the Checklist then please contact Karen Bean by email or 703-706-4868.
The inspection of the delivery fleet should be documented on the Delivery Fleet Inspection Form.
The detailed requirements for delivery fleet are addressed in Section 5 of the Checklist. This inspection can be conducted by approved inspectors or by assigned company personnel. Section 5 and the fleet inspection form can be obtained in the section on Certification of Delivery Vehicles.
Plant and Truck Payment Form
This document includes the payment schedule and can be used to provide payment amount and information when requesting certification for the production facilities and delivery fleet.
Plant Inspector Guide
This guide covers a detailed discussion of the requirements addressed in the Plant Certification Checklist and is intended to provide additional guidance to inspectors and concrete producers seeking certification for their production facilities. The checklist language is included for context of the discussion of each requirement. For persons interested in learning more about the plant certification program and the general industry standards governing ready mixed concrete production facilities, this guide is a useful reference. To obtain a copy contact NRMCA's Jacques Jenkins by email or at 703-706-4865.
Certification Fees
Plant Certification Fee – Every 2 years
NRMCA member – $100 per plant
Non-member – $450 per plant
Delivery Vehicle Certification Fee – Every 12 months
NRMCA member – $15 per vehicle
Non-member – $35 per vehicle
Plant and Truck Reprint Fees (an additional shipping fee will apply)
Plant Certificate $25 per plant
Truck ID Card – $5 per truck
These fees are for NRMCA to provide and process the plant or truck certification request. The fee must accompany the completed electronic checklist. If the plant or truck certification documents are sent in without payment, processing will be delayed until payment has been received. NRMCA accepts payment in the form of credit card (American Express, MasterCard or Visa) or check (made payable to NRMCA).
The turnaround time for processing a correctly completed Plant Certification Check List is two weeks and can sometimes extend to four weeks. Requests for certification are processed sequentially as received.
Expedited Certification Processing
Requests to expedite processing can be accommodated for an additional fee of:
NRMCA Member Fee: $75 per plant or set of delivery vehicles.
Non-Member Fee: $100 per plant or set of delivery vehicles.
The turnaround time for expedited service is 3 working business days from the date that NRMCA receives the documents.
NOTE: All expedited services will be sent out by 2-day mail. If overnight delivery is required, an additional charge will be applied. NRMCA will not email electronic versions of the certificate of conformance or truck certification cards.
Sending Completed Paperwork
By Email: Please e-mail all plant and/or truck certification paperwork to: [email protected]
By Mail: Only for check payments – Please mail the completed payment form and check: National Ready Mixed Concrete Association, Engineering Division – Plant Certification, 66 Canal Center Plaza, Suite 250, Alexandria, VA 22314
Printouts of the electronic checklist received by mail will not be processed. The completed form should be sent by email only.
Contact Us
For Plant Certification Status, Policy Questions and other non-technical inquiries:
General email – for quick response: [email protected]
Karen Bean: 703-706-4868
Alpha Moore: 703-706-4882
For technical questions:
Contact Colin Lobo, Executive Vice President of Engineering at NRMCA: 703-706-4860