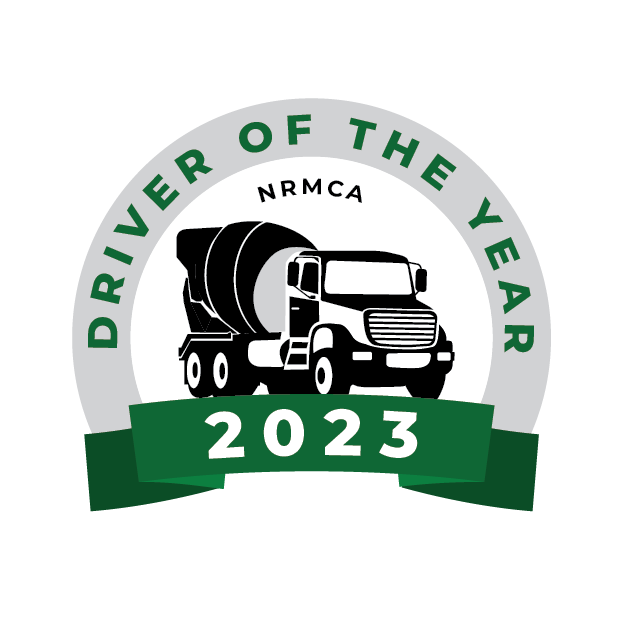 Click here for 2023 Driver of the Year Entry Form. Entries must be received via email by December 31, 2022.
(A word .doc will download to your computer.)
The NRMCA Ready Mixed Truck Driver of the Year Award acknowledges the significant contribution of ready mixed concrete truck drivers to the growth and success of individual companies and the ready mixed concrete industry. A salute to these key members of the concrete production and delivery team, the award recognizes the driver's career achievement, safety, professionalism, competence and customer service skills in a manner that will enhance the industry and public image of the career ready mixed truck driver.
NRMCA Driver of The Year Award Winners
2023 – Bob Hackney of Ernst Concrete Inc, Troy, Ohio
2022 – Edward J. Folkersma of Northern Sand and Gravel, Sault Sainte Marie, MI
2021 – William J. Youngers, VCNA United Materials, Lancaster, NY
2020 – Jose Bermudez, U.S. Concrete West Region (Central Concrete Supply Co.), San Jose, CA
2019 – David Buoncristiani, Central Concrete Supply, San Francisco, CA
2018 – Leonard "Glen" Brown, Martin Marietta, Aurora, CO
2017 – Burice Woods, Chandler Concrete, Roxboro, NC
2016 – Steve Johnson, Martin Marietta, Fort Collins, CO
2015 – Edward Rieper, Eastern Concrete Materials, Bogota, NJ
2014 – Garland Sorrells, Southern Concrete Materials, Asheville, NC
2013 – Rayfield Harris, GCC Mid-Continent Concrete, Tulsa, OK
2012 – Timothy Lindsay, GCC Mid-Continent Concrete, Siloam Springs, AK
2011 – Bob Lowery, Jack B. Parson Companies, Ogden, UT
2009/10 – Johnney Hilliard, Redi-Mix Concrete – A U.S. Concrete Co., Denton, TX
2008 – W. "David" Brooks, Titan Virginia New Post Plant, Fredericksburg, VA
2007 – Howard Scott Cosar, Southern Concrete Materials, Asheville, NC
2006 – Bobby Dennis, Lafarge, Lithonia, GA
2005 – Curtis Rodriguez, Transit Mix Concrete & Materials, Waco, TX
2004 – Charles Smith III, Southern Concrete Materials, Asheville, NC
2003 – Henry Huizinga, Ozinga Illinois Ready Mixed Concrete, Mokena, IL
2002 – Wilbur Balmer, Ready Mixed Concrete Co. of Lancaster, Lancaster, PA
2001 – Johnny Hall, Carolina Concrete Co., Inc., Clinton, SC
2000 – John Marshall, Aggregate Industries, Peabody, MA
1999 – William Moxley, Irving Materials, Inc., Lebanon, TN
1998 – Eddie Simmons, Transit Mix Concrete & Materials, Opelousas, LA
1997 – Dean Cantrell, Allen's Concrete, Inc., Wichita, KS
1996 – Cecil Gray, Turnbull Concrete, Hamilton, OH
The Driver of the Year competition is restricted to:
Active employees of NRMCA member companies in good standing.
Nominees must be full-time truck mixer drivers; full-time drivers who fill in periodically as dispatchers, loader operators, etc., are eligible.
One nominee per company per state. NRMCA encourages member companies to coordinate in-house competitions to select their nominee from each state in which they operate ready mixed concrete plants.
Nominees must have at least 5 years of service to their company.
The NRMCA Ready Mixed Truck Driver of the Year award winners will be honored and their awards will be presented at the NRMCA Annual Convention. A panel of judges assembled by NRMCA's
Safety, Environmental and Operations Committee judge the competition. Awards are given to the Ready Mixed Truck Driver of the Year and four Runners-Up. The panel of judges is solely responsible for determining the award recipients and their decisions are final.
Driver of the Year Award nominations are solicited in early fall each year, with a deadline of December 31. A decision is then made early the following year and presented at the NRMCA's Annual Convention held every March.
For more information, contact Gary Mullings, 703-706-4861.