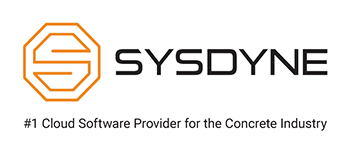 Sysdyne offers advanced cloud-based software solutions that streamline all aspects of the ready-mix concrete business including central dispatch, GPS and paperless ticketing, batch controls, engine diagnostics, ELD and ERP integration.
We are dedicated to bringing the VALUE of the CLOUD to improve our customer's operations, communications and the bottom line.
Highlights and Value
Only true cloud software provider for the concrete industry
Innovative Dispatch, Batch and Delivery management solutions
Technology that is easy to deploy and simple to use
Reduce fixed costs while improving operational efficiency and profitability
Access critical information anytime, anywhere to make better decisions
Program benefits:
ConcreteGO cloud dispatch first month subscription FREE
iStrada delivery management first month subscription FREE
Access to support and program upgrades included
Terms and Conditions
Discount is limited to the first plant or truck based subscriptions only
To take advantage of this special offer:
Please visit sysdynetechnologies.com or call 203-327-3649.
Please mention the Sysdyne-NRMCA Member Benefits program using promo code NRMCACLOUD.
For any questions or orders, please feel free to at contact our promotions team using our LIVE CHAT or contacting our office at 203-327-3649.