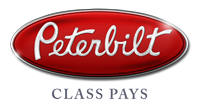 Up to $2,000 CASH rebate is currently being offered to National Ready Mixed Concrete Association members.
Program Details:
Members receive a $2,000 CASH rebate on Model 567 or Model 520.
Limited to five (5) rebates per member-company for calendar year 2022.
NRMCA members must be in good standing for at least 60 days prior to taking retail delivery.
NRMCA members must take retail delivery between January 1, 2022 and December 31, 2022. Retail delivery is defined as the time the ownership of the truck is transferred from the Peterbilt dealer to the customer.
Other Requirements:
Request for customer rebate incentives must be received by NRMCA within 90 days of taking retail delivery.
Allow 6 to 8 weeks for check to process.
This program may not be combined with any other rebate offers from Peterbilt.
For more information please contact: Jacques Jenkins, 703-706-4865.